Introducing the Class 6 EtherNet/IP™ SmartMotor™
Moog Animatics is pleased to announce the release of the Class 6 EtherNet/IP™ SmartMotor™, which is available in both standard servo and hybrid, or
high pole count,

servo versions.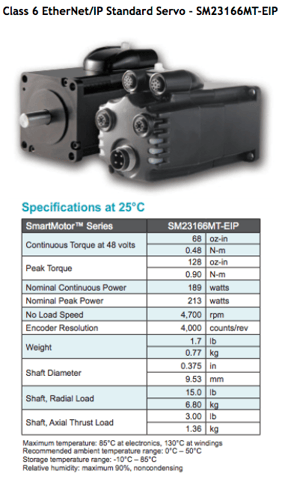 The EtherNet/IP™ product represents the next step in the evolution of the Class 6 integrated motor design, which includes PROFINET™ and EtherCAT™ versions, and further extends the robust Industrial Ethernet SmartMotor™ feature list with EtherNet/IP™ Position Controller capability, providing:
Access to unique SmartMotor™ commands and parameters
Improved uptime with optional redundant cabling through Device Level Ring (DLR)
Optimal performance ensured through Quality of Service (QoS)
Simplified, modular programming through Add-On Instructions (AOIs)
Additionally, the EtherNet/IP™ motor includes specific Add-On Instructions for use with Allen Bradley PLCs, which will reduce development and implementation time, and improve speed-to-market. These AOIs can be used "as is" or modified for end-user-specific solutions.
In order to provide our customers with a complete list of features and specifications, Moog Animatics has put together a comprehensive datasheet for the Class 6 EtherNet/IP™ Servo. This sheet includes complete information on key features, specifications, dimensions and connections, as well as a power chart. To view the datasheet and learn more about everything the Class 6 EtherNet/IP™ SmartMotor™ has to offer:
The Class 6 EtherNet/IP™ SmartMotor™ is available now. Contact Moog Animatics directly or your sales rep for more details on how this SmartMotor™ can provide a high-performance, cost-effective solution for your EtherNet/IP™ applications!