Moog Animatics Introduces its
Latest Product Catalog
Moog Animatics is pleased to announce the release of its latest Product Catalog. This "slimmed down" version of the previous catalog provides product data summaries for existing products while showcasing new products such as: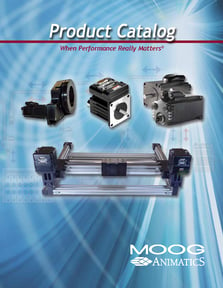 Class 6 Industrial Ethernet SmartMotor

™

-

Support EtherNet/IP™, PROFINET® and EtherCAT® protocols

Low-Cost 17 Frame SmartMotor

–

SmartMotor features in a low-cost, compact package

M6S/PSC Linear and ROT1 Rotary Actuators

–

SmartMotor-powered belt-driven actuators

T-Bot and H-Bot Systems

–

SmartMotor-powered turnkey gantry systems

I/O Device CAN Bus Master

–

Interfaces with standard CiA 301 CANopen devices

Expanded Traverse and Takeup

–

Now supports complex winding patterns

And more

This new catalog illustrates the increasing breadth and depth of Moog Animatics' product lines, and our continued commitment to innovation, performance and being the industry leader in the development of integrated servo motors, controls and software for factory automation.
The latest Product Catalog is available now in print and PDF formats. Contact Moog Animatics today to get your copies of the catalog to show your customers how Moog Animatics products can positively impact their machine build cost, quality, reliability and ease of use!