Moog Animatics Announces the Addition of the SHUNT42V300WOF Open Frame Shunt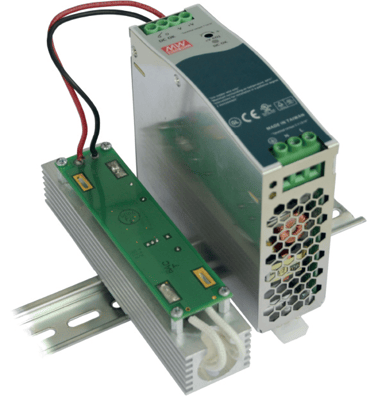 SHUNT42V300WOF Shunt mounted on a DIN rail with a power supply
Moog Animatics is pleased to announce the addition of a new frameless shunt to its product line, model SHUNT42V300WOF. This frameless shunt provides automatic overvoltage protection when installed on the power supply lines1 of your SmartMotor™ product.
The SHUNT42V300WOF model expands the shunt product offering by providing benefits like lower resistance: 4.7 instead of 12.5 Ω, increased power rating: 300W continuous with cooling, without cooling 240W (DC=30%), and high overload capabilities: 700W, maximum 5 sec. This new model includes a DIN rail adapter for mounting.
It also offers these advantages:
Robust resistors, cast in concrete and mounted in an aluminum housing
A PCB protected from mechanical influences like bending
Better heat conduction and impulse capacity
Integrated suppression diode for eliminating fast, short, peak voltages, which could damage the motor's controller
All parts are UL listed, UL recognized or follow UL guidelines
And more
With the addition of this new frameless shunt model, Moog Animatics offers a variety of shunt products to fit your specific application's motor-protection requirements, simply, reliably and cost effectively. Contact Moog Animatics directly or your sales rep for more details on this new shunt product.
[1] Shunts should always be placed between the motor input and any disconnect or e-stop relay to ensure protection of the motor when power is not applied or e-stop relay contacts are open.