Combitronic™ Technology and the CDS7 Option - the Moog Animatics 1-2 Punch for Machine Builders
Combitronic™ is a proprietary communications protocol developed by Moog Animatics exclusively for the SmartMotor™. With Combitronic™ technology, any SmartMotor™ can read from, write to, and control any other SmartMotor™, can act as the master, and can pass master control from one SmartMotor™ to another – virtually eliminating the need for a PLC or other bus master. With conventional systems, this would take a massive amount of time writing communication code and learning a new fieldbus protocol, but with Combitronic™ communication, all you do is address each SmartMotor™ with a colon followed by its CAN address (see the sample code).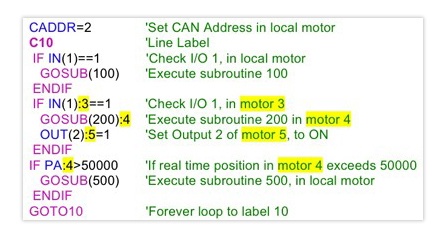 Combined with the CDS7 motor option, the latest offering from Moog Animatics that allows a simple, single-cable, power and communications connection from motor to motor,1 the machine builder has a simple, cost-effective way to build a network of Class 5 D-Style SmartMotor™ integrated servos. No other integrated motor manufacturer offers this capability. The CDS7 option combined with Combitronic™ technology provides the 1-2 punch that machine builders need to get ahead of their competition, allowing faster development, easy machine replication, and quick to market.
Key Features:
Power and communications passed on one easy-to-install cable for a compact design that decreases the required space in the machine
No scan list or node list set up required
RS-232 auto-detection from SMI™ for easy setup and CAN network addressing2
All SmartMotor™ nodes have full read/write access to all other SmartMotor™ nodes, and no master is required
---
1Proper termination is required at each end of the bus. For details, see the Class 5 SmartMotor™ installation and CANopen guides.
2Requires the CDS7 SmartMotor™ option and CDS7 Add-A-Motor cables or equivalent customer-supplied cables.